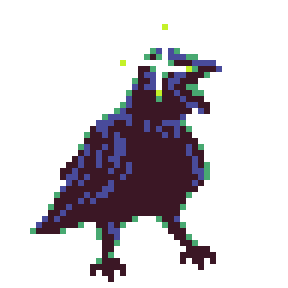 Astropulse
Pixel Artist & Graphic Designer
---
I'm Cody, and what I do best is finding out of the box solutions to technical and artistic problems. From a simple logo, to creating custom software, I enjoy it all. My favorite projects require a combination of programming and creative skills.
---
Character design pieces, mostly portraits.
Pieces containing landscapes, environments, and skylines.
Get a perfect desktop background for 16/9 screens, $180 a piece.
Smaller one-off items or tools.
Completely tileable textures for game materials or patterns.
Large animated pieces.
Baron Playing Cards has been a long-term project of mine, and has undergone several revisions. The goal is to eventually produce a full set of high quality pixel art playing cards, at a reasonable price.Scrolling down will take you through the progress of the card pack as I refined it.Version one of the Baron cards. At the time I had no name or style in mind, just the concept of a skeleton king and an eye on the back.
The next revision gained some style consistency, and an expanded color palette. This is also where the dragon imagery began taking shape.
The final version has increased contrast, and yet another palette change. The ace cards also have added details to increase interest.
Later, jokers were added and all cards were completed.
Finally, I produced 3D models for the cards and made some sample renders.
I also purchased a very small batch of printed cards as a test run, and hopefully in the future I will have a full product run.
Player Two Arcade is an in-progress blockchain arcade that approached me for some site and social media visuals. The project aims to create a virtual space with various unique arcade games and arcade machines that can be traded between users.
Standalone arcade machines.
This very large animation was made for promotional material, as well as a sitemap.
The project is still in progress, with more additions coming in the future.
Dormant Dragons is a very successful NFT collection and blockchain project. I was hired to create assets for their upcoming P2E RPG.I produced 20 icons for various game systems.
After the core icons were developed, I used random generation to create many unique versions of the different armor pieces in the game.
By trade I am primarily a pixel artist, but my interests and skills go far beyond that.I love working with specialty projects, especially ones using new technologies or concepts. Recently I have worked on several projects in the crypto space that were interesting to me. I can develop tools, workflows, etc for custom art processes. I've built small scale Discord bots, fire simulation programs, 3D planet designers, texture viewers, and much more.I have designed vector assets even longer than I have pixel art, and even went to school for graphic design. If you have a project you want to hire me for, but it doesn't seem to fit my style, scroll down the page and send me a message anyways.
---
Don't want to use email? Add me on Discord: Astropulse#9690
---
I have over 6 years of experience creating and animating pixel art. I have worked on game development projects, animations, landscapes, and character designs. Please view the chart below for a sample of typical commission costs. (Prices may be lower or higher based on complexity, size, and order quantity.)
Do you have a project that doesn't fit into another category? That's fine. Jump straight to my contact form and tell me all about it. (Prices are negotiable within reason.)
Please fill in all appropriate boxes and give project specifics. Serious offers only.
---
Don't want to use email? Add me on Discord: Astropulse#9690
---
All images are 100% AI generated with Retro Diffusion, no retouching or fixing.
---
Don't want to use email? Add me on Discord: Astropulse#9690
---
---
End-User License Agreement (EULA) of Retro Diffusion Extension
This End-User License Agreement ("EULA") is a legal agreement between you and Astropulse. Our EULA was created by EULA Template for Retro Diffusion Extension.This EULA agreement governs your acquisition and use of our Retro Diffusion Extension software ("Software") directly from Astropulse or indirectly through a Astropulse authorized reseller or distributor (a "Reseller").Please read this EULA agreement carefully before completing the installation process and using the Retro Diffusion Extension software. It provides a license to use the Retro Diffusion Extension software and contains warranty information and liability disclaimers.If you register for a free trial of the Retro Diffusion Extension software, this EULA agreement will also govern that trial. By clicking "accept" or installing and/or using the Retro Diffusion Extension software, you are confirming your acceptance of the Software and agreeing to become bound by the terms of this EULA agreement.If you are entering into this EULA agreement on behalf of a company or other legal entity, you represent that you have the authority to bind such entity and its affiliates to these terms and conditions. If you do not have such authority or if you do not agree with the terms and conditions of this EULA agreement, do not install or use the Software, and you must not accept this EULA agreement.This EULA agreement shall apply only to the Software supplied by Astropulse herewith regardless of whether other software is referred to or described herein. The terms also apply to any Astropulse updates, supplements, Internet-based services, and support services for the Software, unless other terms accompany those items on delivery. If so, those terms apply.License Grant
Astropulse hereby grants you a personal, non-transferable, non-exclusive licence to use the Retro Diffusion Extension software on your devices in accordance with the terms of this EULA agreement.You are permitted to load the Retro Diffusion Extension software (for example a PC, laptop, mobile or tablet) under your control. You are responsible for ensuring your device meets the minimum requirements of the Retro Diffusion Extension software.You are not permitted to:Edit, alter, modify, adapt, translate or otherwise change the whole or any part of the Software nor permit the whole or any part of the Software to be combined with or become incorporated in any other software, nor decompile, disassemble or reverse engineer the Software or attempt to do any such things
Reproduce, copy, distribute, resell or otherwise use the Software for any commercial purpose
Allow any third party to use the Software on behalf of or for the benefit of any third party
Use the Software in any way which breaches any applicable local, national or international law
use the Software for any purpose that Astropulse considers is a breach of this EULA agreement
Intellectual Property and Ownership
Astropulse shall at all times retain ownership of the Software as originally downloaded by you and all subsequent downloads of the Software by you. The Software (and the copyright, and other intellectual property rights of whatever nature in the Software, including any modifications made thereto) are and shall remain the property of Astropulse.Astropulse reserves the right to grant licences to use the Software to third parties.Termination
This EULA agreement is effective from the date you first use the Software and shall continue until terminated. You may terminate it at any time upon written notice to Astropulse.It will also terminate immediately if you fail to comply with any term of this EULA agreement. Upon such termination, the licenses granted by this EULA agreement will immediately terminate and you agree to stop all access and use of the Software. The provisions that by their nature continue and survive will survive any termination of this EULA agreement.Governing Law
This EULA agreement, and any dispute arising out of or in connection with this EULA agreement, shall be governed by and construed in accordance with the laws of us.
---
Aseprite Diffusion's latest, and largest update brings a bunch of new features and improvements to existing features. This update focuses on ease of use and pushing the boundaries of what is possible with current AI models.
The most important change this update is the re-training of the pixel art model.
This new model produces higher quality results more consistently than the previous version, and any competing model. This is only the second step along the road to a perfect pixel art generator, and I plan to keep improving this aspect of the program.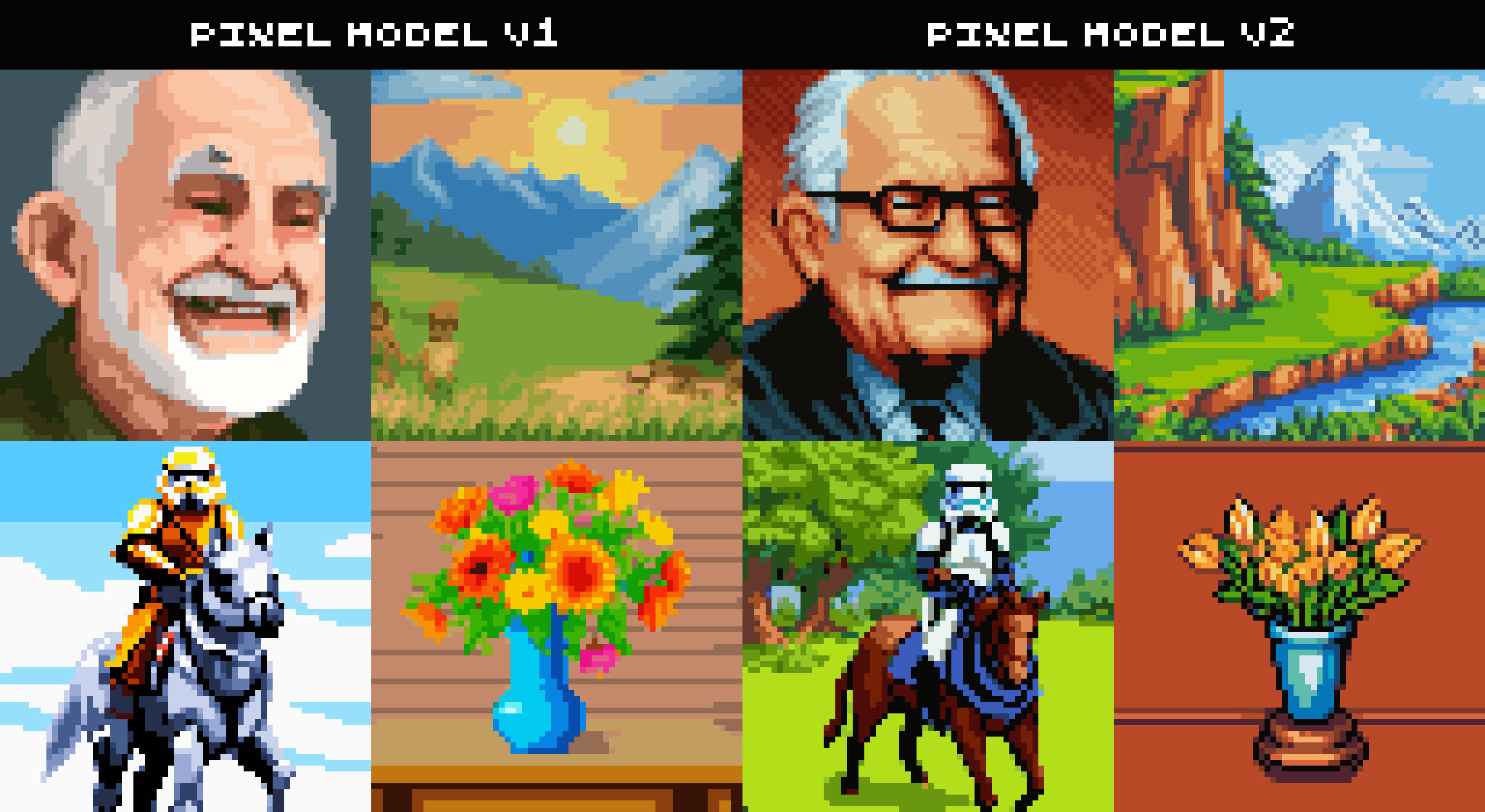 PaletteGen is a specifically trained text-to-image model that outputs advanced and organized color palettes from text prompts. It is great at working with theme requests, color requests, and color ramps. I worked with color theory and palette creation experts to develop this model, and eventually plan on having a dedicated website.
One of the primary goals of this update is to improve the user experience, beginning with the installation process. There is now a helpful pop-up after your first install.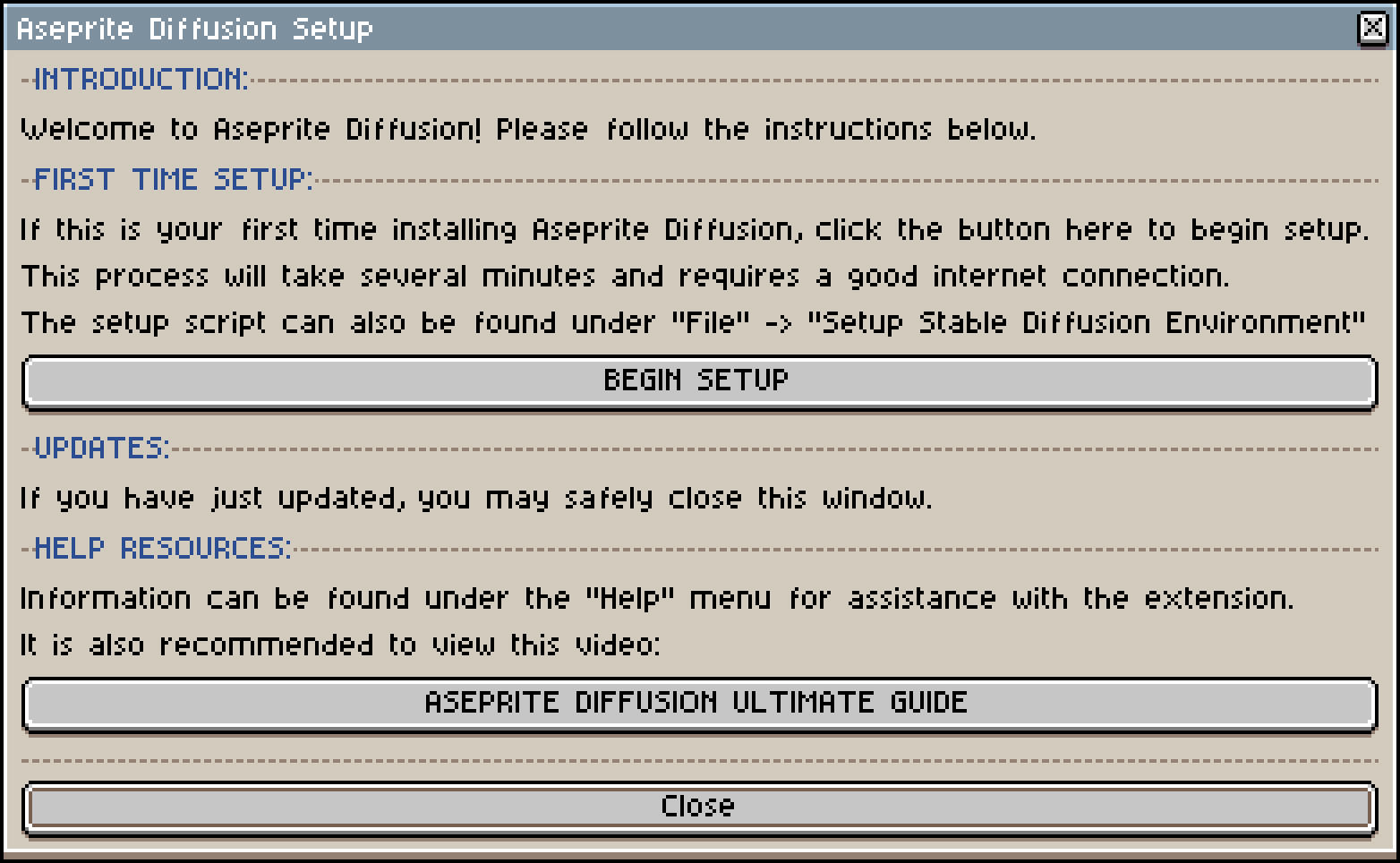 The ability to specify "negative prompts" has also been added, letting you tell the AI generator what content you don't want to see.Along with this, there have also been improvements to the installation script that will display error messages when it encounters issues. It will also no longer close automatically, actually giving you a chance to see what is going wrong.Now, when image generation fails for any reason, an "Error" image is loaded, letting you know something went wrong.Various scripts and help docs have been re-written, giving clearer, more useful information at a glance.File sizes of the models have been cut in half, allowing for faster loading and less storage space.